HOW DO YOU MAKE A SMART DECISION FOR YOUR TORONTO MORTGAGE ?
At CityCan Financial, we have been arranging home mortgage loans in Toronto and all of Ontario for over 40 years and have placed well over 50,000 of them. With this kind of unrivaled industry experience, we know home mortgage loans inside out.
As we are an independent Toronto mortgage broker, and are not affiliated with any particular mortgage lender, we will take the time to discuss your specific situation, needs and goals to find the lowest mortgage rates and product best suited to you. At CityCan Financial, we will take the time to explain the process and give you all your options to allow you to make a more educated decision before jumping right into the first home mortgage loan your bank offers you.
SHOPPING FOR THE LOWEST MORTGAGE RATES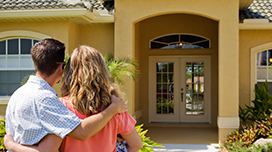 What most Toronto home buyers do when applying for a home mortgage loan is they visit their Toronto mortgage couple local bank, however the lowest mortgage rates are usually not found at your bank.
When shopping for a home mortgage loan on your own, each time a lender looks at your credit, your beacon (credit) score will slightly drop. One big benefit to using CityCan Financial is that we can do all the mortgage rates shopping for you with only a single credit check, therefore, your credit score remains intact.
When you walk into a bank to apply for your mortgage, you are at the banks mercy. The person you are speaking to works directly for that bank. At CityCan Financial, we work for you, not the lender, and therefore we are looking out for your best interests. Getting the right advice is crucial, and with over 40 years experience as a Toronto mortgage broker, CityCan Financial can provide you with the right information that could end up saving your thousands of dollars in the future. There are no additional fees for qualified borrowers, as we get a finders fee from the mortgage lender. In many cases, we are able to get you better than bank mortgage rates.
How can we do this?
Most of the mortgage lenders we deal with do not have branches scattered across Canada, Ontario, or even Toronto. They keep their overhead low, and their only business is home mortgage loans. By specializing in home mortgage loans alone, they are able to bring you lower mortgage rates with superior service.
With our extensive experience placing mortgages in Toronto, Ontario, we know how the system works and can negotiate your mortgage for you, therefore getting you the best possible deal. As we deal with many different mortgage lenders (including banks), you can sit back, relax and let us do the mortgage rate shopping for you! . It is important to us that we ensure you have the best home financing experience possible, as we want to earn your home financing business for life.